COOLSCULPTING™ IS NOW AVAILABLE FOR ARMS AND INNER AND OUTER THIGHS! Coolsculpting™ is a no-downtime, 100% non-invasive method to permanently remove unwanted fat. This revolutionary procedure, developed by physicians at Harvard University, uses a precisely controlled cooling method called Cryolipolysis™ to target, cool, and eliminate fat cells without damage to neighboring tissue.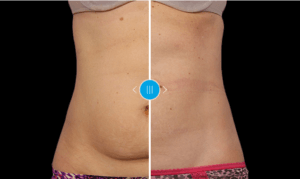 Virtually pain free, each Coolsculpting procedure results in an average of 20% reduction of fat in the treated area; all with no-downtime and no diet or exercise required.
Procedure time: 1-3 hours
Anesthesia: None
Recovery: None
Risks: Complications are extremely rare although scabbing or blistering are possibilities.
Click here to see photos and learn more about transforming your body with Coolsculpting.