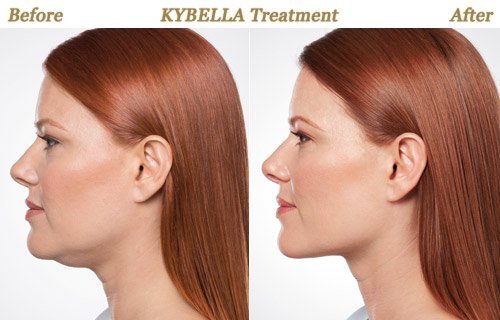 Premier MediSpa, southern Colorado's number one Aesthetic Medicine Clinic introduces KYBELLA®, a revolutionary non-surgical, in-office treatment with proven results to decrease moderate to severe double chin!
Submental fullness is a gathering of excess fat beneath the chin, commonly known as "double chin." It can be something you've had your whole life due to genetics, or start to appear as you get older or if you gain weight.
Why KYBELLA®?
The active ingredient in KYBELLA® is synthetic deoxycholic acid. Deoxycholic acid is a naturally occurring molecule in the body that aids in the breakdown and absorption of dietary fat. When injected into the fat beneath the chin, KYBELLA® destroys fat cells, and once destroyed, these cells can no longer store or accumulate fat. This results in a noticeable reduction in fullness under the chin, revealing an improved chin profile.
See how KYBELLA works.
Your specialist will create a tailored treatment plan based on your chin profile. At each treatment, you will be given multiple small injections under your chin. You may receive up to 6 treatment sessions, spaced at least 1 month apart. Many patients experience visible results in 2 to 4 KYBELLA® treatments. 59% of patients received 6 treatments in clinical studies.
Benefits include: Significant reduction in double chin that when injected into fat under the chin, KYBELLA® causes the destruction of fat cells. Once destroyed, those cells cannot store or accumulate fat. After reaching your desired aesthetic, further treatment is not expected.
What can you expect? Treatment can only be administered by a KYBELLA®-trained healthcare specialist. At each treatment, you will receive multiple small injections under your chin, and the injection process takes about 15 to 20 minutes. The exact number of injections will depend on the amount of fat you have under your chin and your desired profile.
After KYBELLA® treatment, you will likely have some swelling, bruising, or numbness under your chin. Be sure to inform your healthcare professional if you develop an uneven smile, facial muscle weakness, or difficulty swallowing.
About Premier MediSpa: Celebrating 10 years in Colorado Springs, Premier MediSpa is a medical day spa in Colorado Springs that provides traditional spa services WITH medical aesthetic services in a beautiful spa setting.
Owned by Gerty Bland, RN-BSN, Premier MediSpa is the only medical day spa in Colorado Springs that has a Plastic Surgeon on staff as our Medical Director. Our Registered Nurses have been personally trained by Dr. Gregory Bland, M.D., Board Certified Plastic Surgeon,on the anatomy of the face, neck and body as well as best practices on injection techniques and safety.
Be sure to follow us on Facebook to take advantage of monthly specials on medical spa treatments as we celebrate 20 years of excellence in Colorado Springs.