At Premier MediSpa, we provide a wide assortment of soft tissue fillers that create consistent and reliable results. Our selections include the newly FDA approved volumizing filler Sculptra Aesthetic. Sculptra can be used for the correction of shallow to deep nasolabial folds, contour deficiencies and other facial wrinkles and lasts up to 2 years.
Our hyaluronic based products include: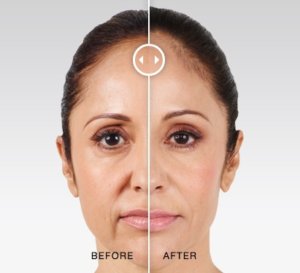 Voluma:  As you age, it's not just about lines and wrinkles. Your cheeks can lose volume and skin may begin to sag. JUVÉDERM VOLUMA® XC is the first and only FDA-approved injectable gel to instantly add volume to your cheek area to correct age-related volume loss in adults over the age of 21. It can provide you contour and a subtle lift for up to two years with optimal treatment.  Click here to see actual before and after results.
Juvederm Ultra and Ultra Plus: Ultra injectable gel is a colorless hyaluronic acid gel that is injected into facial tissue to smooth wrinkles and folds, especially around the nose and mouth. Hyaluronic acid is a naturally occurring sugar found in the human body. The role of hyaluronic acid in the skin is to deliver nutrients, hydrate the skin by holding in water, and to act as a cushioning agent.
JUVÉDERM® Ultra injectable gel temporarily adds volume to facial tissue and restores a smoother appearance to the face. The gel is injected into areas of facial tissue where moderate to severe facial wrinkles and folds occur and temporarily adds volume to the skin and may give the appearance of a smoother surface for about 9 months to 1 year.
JUVÉDERM VOLLURE® With Vollure, you can write your story without parentheses! Over time, your skin loses elasticity, which contributes to moderate to severe parentheses lines and wrinkles around the nose and mouth. While serums and creams work on the skin's surface, JUVÉDERM®XC and JUVÉDERM VOLLURE™ XC add volume to smooth these lines and folds, to help give you the subtle, long-lasting results you want.
JUVÉDERM VOLBELLA® offers natural looking lips that last.  Some people simply have naturally thin lips and just want to achieve a fuller appearance. Other people have noticed their lips thinning over time and may also have seen vertical lip lines become more noticeable. JUVÉDERM VOLBELLA® is tailored to add subtle volume to the lips and smooth the appearance of vertical lip lines.
Radiesse is a calcium based filler used for moderate to deep facial folds. All of these products can stand on their own or be used in unique combinations depending on client desires and features. Various facial regions can be enhanced such as the brow-roll, the high-cheek, and the lips. Or, the products can simply be used to decrease the appearance of wrinkles and various furrows such as laugh lines.
RESTYLANE REFYNE & DEFYNE® are two hyaluronic acid gel fillers for laugh lines (nasolabial folds & marionette lines) made with XpresHAn Technology™ that helps maintain natural expression in motion. So your smiles, laughs, frowns and kisses look natural and supported.
BELOTERO BALANCE® helps you erase the stubborn lines above your lips that used to be hidden by makeup. Just because you've caught your reflection and seen some small wrinkles starting to develop around your mouth (these changes are natural with aging), it doesn't mean you have to live with them. Fortunately, there may be an ideal option that can help you take those wrinkles all the way to smooth. BELOTERO BALANCE® injectable gel is a prescription injection that is used to temporarily smooth out and fill in moderate-to-severe nasolabial folds as well as other moderate-to-severe etched-in lines and wrinkles around your lips and mouth.
SCULPTRA AESTHETIC® Helping address an underlying cause of facial aging, not just the symptoms of smile lines and laugh lines, Sculptra® Aesthetic works subtly and gradually over time for a more youthful-looking appearance. Unlike hyaluronic acid (HA) fillers, Sculptra Aesthetic helps stimulate your skin's own natural collagen production to help restore its inner structure and increase facial volume that has been lost to aging. Typical results last upwards of two years.
Call today to find which products might be best for you!
Procedure Time: 15 minutes to 30 minutes.
Anesthesia: Usually none. Topical and cooling optional.
Recovery: Several days of mild swelling.
Risks: Although rare, temporary bruising, allergic reactions, irregularities have been reported.
Click here to see before and after photos and more information on how to look better, feel better, and live better with Juvederm and Radiesse volumizing fillers.