COOLSCULPTING™ IS NOW AVAILABLE FOR ARMS AND INNER AND OUTER THIGHS! Coolsculpting™ is a no-downtime, 100% non-invasive method to permanently remove unwanted fat. This revolutionary procedure, developed by physicians at Harvard University, uses a precisely controlled cooling method called Cryolipolysis™ to target, cool, and eliminate fat cells without damage to neighboring tissue.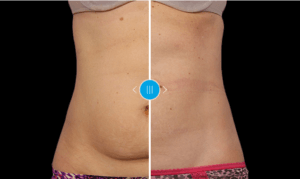 Virtually pain free, each Coolsculpting procedure results in an average of 20% reduction of fat in the treated area; all with no-downtime and no diet or exercise required.
Procedure time: 1-3 hours
Anesthesia: None
Recovery: None
Risks: Complications are extremely rare although scabbing or blistering are possibilities.
Fat cells that are frozen during the CoolSculpting procedure gradually die off and leave the body through the body's natural elimination process. That's why the results are long-term. The fat is gone for good! Untreated areas will have no change in fat cell distribution.
Click here to see photos and learn more about transforming your body with Coolsculpting.
About Premier MediSpa
Premier MediSpa concentrates on rejuvenation and beautification, and is southern Colorado's #1 injector of Botox® and cosmetic soft tissue fillers, offering over 20 years experience. Other services provided include laser skin rejuvenation, laser hair removal, laser vein treatments and sublative laser treatments.